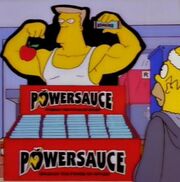 Powersauce is an energy bar that is said to include 6 types of apples. Homer ate a lot of Powersauce bars when working out at the gym and later as he climbed up The Murderhorn. It is revealed that bars are actually made from apple cores and old Chinese newspapers, not even properly shredded ones as Homer is able to read an article in one of his bars. Rainier Wolfcastle was the mascot for Powersauce.
The energy bar is labeled:
POWERSAUCE
UNLEASH THE POWER OF APPLES!
A bushel of apples packed into each bar, plus a secret ingredient that unleashes the awesome power of apples.
Behind the laughter
Powersauce is a stereotype of how companies brag about their products.
Powersauce is a very thinly veiled satire of a real product, PowerBar.
Appearances
| | | |
| --- | --- | --- |
| | D'oh! | This article is a stub. You can help the wiki by embiggening it. |
Ad blocker interference detected!
Wikia is a free-to-use site that makes money from advertising. We have a modified experience for viewers using ad blockers

Wikia is not accessible if you've made further modifications. Remove the custom ad blocker rule(s) and the page will load as expected.