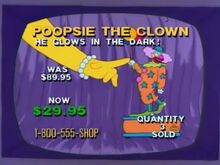 "The clown that will last a lifetime."
―TV voiceover
Poopsie the Clown is a glow-in-the-dark toy clown. During the sale on a cable shopping channel, three copies had been sold. It was originally priced at $89.95, but was discounted by two-thirds to $29.95.[1]
Appearances

Episode – "Homer vs. Lisa and the 8th Commandment" (Seen on TV)
Citations
Ad blocker interference detected!
Wikia is a free-to-use site that makes money from advertising. We have a modified experience for viewers using ad blockers

Wikia is not accessible if you've made further modifications. Remove the custom ad blocker rule(s) and the page will load as expected.