18,364 articles being
edited here
Talk

3
"Catch you on the flip side, dudemeisters! Nooot!"
―Poochie
Poochie was a character on The Itchy & Scratchy Show. The network executives decided that the show needed an "update" to keep the interest of its audience, so they devised Poochie, a cartoon dog "with an attitude".
History
Creation
After widespread auditions,
Homer
was chosen to provide Poochie's voice. The character debuted to an unreceptive audience following a massive publicity campaign; he only served to interfere with the well-oiled machine of hyperviolent slapstick that Itchy and Scratchy had perfected over the years.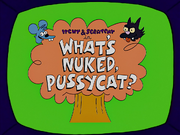 Death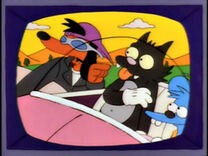 When dissatisfied viewers flooded the network with letters crying for Poochie's immediate removal, if not death, the executives quickly decided to get rid of the character. Homer begged for another chance, insisting that Poochie would grow on the audience; this argument held little weight until the actress who performed voices for both Itchy and Scratchy declared her support for Poochie as well.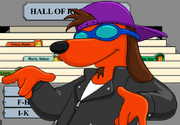 Homer was shocked, however, when the next cartoon aired: it contained a hastily-animated, redubbed segment in which Poochie, not voiced by Homer, stated he had decided to return to his "home planet." Dialogue written in bloody letters across the screen read, "Note: Poochie died on his way back to his home planet," and cuts immediately back to Krusty telling kids happily, "Poochie's dead!" Despite his death, however, he made a brief cameo in the Itchy and Scratchy episode The Tears of a Clone.
Non-Canon Appearances
The Simpsons Game
He is the main enemy on the Grand Theft Scratchy level, where he acts and speaks like a rapper. After Marge and Lisa re-form the Ice Cream cars, Poochie talks to the Feline "ho's" watching the show, ordering them to destroy the cars. Using her Hand of Buddha, Lisa defeats the prostitutes, while Marge sends the dogs to destroy the stage on which Poochie stands. Marge apoligized and told him that even he isn't a match for a stay-at-home mom with too much time on her hands.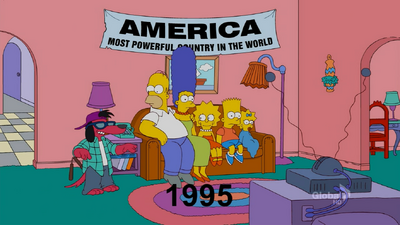 Appearances