Homer's Pontiac GTO appears to be a 1970 model with a blue paint job with an after market 69 wing.
History
It has remained parked in a corn field because Homer took it to a music festival and forgot where he parked it. Later, it gets run over by a combine harvester.
Appearance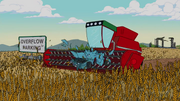 Ad blocker interference detected!
Wikia is a free-to-use site that makes money from advertising. We have a modified experience for viewers using ad blockers

Wikia is not accessible if you've made further modifications. Remove the custom ad blocker rule(s) and the page will load as expected.