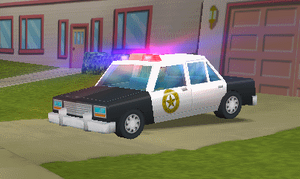 The cPolice Car is a vehicle that chases you when you get a Hit and Run by getting the Hit and Run meter full. If it catches you, you get fined 50 coins for your crimes. They can be destroyed easily by bashing into them. Their only purpose is to catch you and they don't care about anyone or anything else; bashing into people and objects carelessly. They can't go inside buildings.
As you can see closer, there is a police officer inside who looks like Lou with Yellow skin driving the car.
See Also
Appearances
Ad blocker interference detected!
Wikia is a free-to-use site that makes money from advertising. We have a modified experience for viewers using ad blockers

Wikia is not accessible if you've made further modifications. Remove the custom ad blocker rule(s) and the page will load as expected.