Pinky the Elephant is a green elephant Homer imagines at Moe's.
Biography
Huffnpufflalaus is only seen in one episode of the Simpsons when Stradivarius Cain comes to Homer as an imaginary friend to help him with his marriage. Huffnpufflalaus sees Cain hiding behind a pool table when he enters Moe's Tavern with Lenny. Huffnpufflalaus then asks him if he's still angry because he slept with his girlfriend. Later on in the show you see Cain shot randomly into a bush and then he reveals he has shot Huffnpuffalaus and his last words are "I knew you were still mad".
Appearances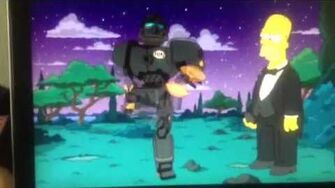 Ad blocker interference detected!
Wikia is a free-to-use site that makes money from advertising. We have a modified experience for viewers using ad blockers

Wikia is not accessible if you've made further modifications. Remove the custom ad blocker rule(s) and the page will load as expected.