"Lovely day for paradise, isn't it?"
―The Pig of Eden
The
Pig of Eden
was a pig at the Garden of Eden that supplied
Adam
and
Eve
(
Homer
and
Marge
) of pork chops, pork ribs, bacon and other pig food. He was just in
Marge
's dream when she fell asleep at the church. He had the ability to regenerate as Homer peeled pork chops of him. This is shown while Homer is crying about God banishing Eve.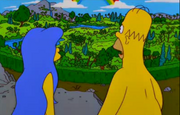 Behind the Laughter
He sounded very similar to the Classy Pig another imaginary talking pig from King-Size Homer.
Appearances

This article about a Simpsons character is a
stub
. You can help the
Simpsons Wiki
by
embiggening it
.
Ad blocker interference detected!
Wikia is a free-to-use site that makes money from advertising. We have a modified experience for viewers using ad blockers

Wikia is not accessible if you've made further modifications. Remove the custom ad blocker rule(s) and the page will load as expected.