The title of this article is a conjectural. Though the topic is found within The Simpsons universe, a proper name is not available.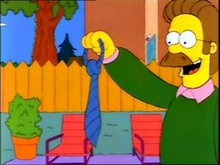 "Friday, I'm saying toodle-loo to the pharmaceutical game. No, I kid you not. Here's the noose I had to wear for ten years."
―Ned tells everyone that he's leaving the pharmaceutical company.
The pharmacist necktie was a blue, pinstriped necktie worn by Ned Flanders when he worked for a pharmaceutical company. He burned the tie on his barbecue to prove that he had started his own business, The Leftorium.
Appearance
Ad blocker interference detected!
Wikia is a free-to-use site that makes money from advertising. We have a modified experience for viewers using ad blockers

Wikia is not accessible if you've made further modifications. Remove the custom ad blocker rule(s) and the page will load as expected.