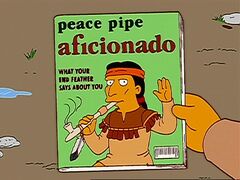 Peace Pipe Aficionado is a magazine for Native Americans who enjoy smoking Peace Pipes.
History
After Homer and Bart had destroyed the beaver dam and the lake disappeared, the Native Americans could return to their submerged homes. One of the women began looking though her mail and found a Peace Pipe Aficionado magazine.
Appearances
Ad blocker interference detected!
Wikia is a free-to-use site that makes money from advertising. We have a modified experience for viewers using ad blockers

Wikia is not accessible if you've made further modifications. Remove the custom ad blocker rule(s) and the page will load as expected.