This article is about the Paul McCartney character. For the real-life musician and guest voice actor, please see Paul McCartney.

Paul McCartney is a famous British rock musician and member of The Beatles and Wings. He and his wife Linda hang out on Apu Nahasapeemapetilon's secret roof garden which he shows Lisa after she has issues about becoming a vegetarian.[1]
Paul later appears leaving a laundromat.[2]
Non-Canon
Paul McCartney's tombstone can be seen in Springfield Cemetery (Shorts) in "Treehouse of Horror", a reference to the Paul is dead rumours.
Appearances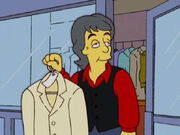 Citations
Ad blocker interference detected!
Wikia is a free-to-use site that makes money from advertising. We have a modified experience for viewers using ad blockers

Wikia is not accessible if you've made further modifications. Remove the custom ad blocker rule(s) and the page will load as expected.