This article is about Paul McCartney the musician and guest voice actor. For the character, please see Paul McCartney (character).
Sir Paul McCartney (born 18 June 1942) is a British musician and songwriter, and a former member of The Beatles and Wings (band). He is noted by the Guinness World Records as the most successful songwriter in the history of popular music.[1]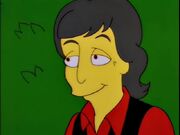 On The Simpsons, McCartney appeared in the episode "Lisa the Vegetarian" as himself, alongside his now deceased wife Linda. McCartney's stipulation for appearing was that Lisa's decision to become a vegetarian would be a permanent character change, to which producer David Mirkin agreed.[2]
McCartney was the final surviving Beatle to appear on The Simpsons, following Ringo Starr and George Harrison. John Lennon was assassinated in 1980, years before the show began. Harrison died in 2001, years after his own, McCartney's, and Starr's appearances on the show.
Appearances
Citations
External links
Ad blocker interference detected!
Wikia is a free-to-use site that makes money from advertising. We have a modified experience for viewers using ad blockers

Wikia is not accessible if you've made further modifications. Remove the custom ad blocker rule(s) and the page will load as expected.