| | |
| --- | --- |
| | It has been suggested that this article be split into multiple articles (with a disambiguation page in case of confusion). (Discuss) |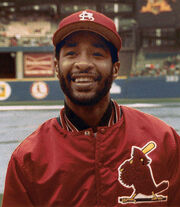 Ozzie Smith was shortstop for the San Diego Padres (1978–1981) and the St. Louis Cardinals (1982–1996). He appeared as himself in Homer at the Bat when he temporarily played for the Springfield Nuclear Power Plant softball team. He was depicted as a tourist.
Appearance
Ad blocker interference detected!
Wikia is a free-to-use site that makes money from advertising. We have a modified experience for viewers using ad blockers

Wikia is not accessible if you've made further modifications. Remove the custom ad blocker rule(s) and the page will load as expected.