Orville Simpson
Talk

3
16,823 articles being
edited here
Orville J. Simpson

Sex
Status
Hair
White
Occupation
WWI Veteran (possible) Retired,Policeman
Relatives
Grandfather: Howland Simpson/Abraham Simpson I


Uncles: Lou, Hugo and Gaston Simpson
Aunt: Dulcine Simpson
Cousins: Echardt, Bob and Twyla Simpson
Cousins of the 3rd degree: Howie, Zita, Betty and Olivia
Wife: Yuma Hickman
Sons: Hubert, Abraham, Cyrus, Chet, Tyrone and Bill Simpson
Daughter (posible): Hortense Simpson
Grandchildren: Homer, Herbert, Abbie, Valerie and Frank Simpson
Great Grandchildren: Bart, Lisa, Hugo, Maggie, Jessica Simpson and Stanley Simpson
[Ling Bouvier] Adopted great grandaugther. Parents: "Old Tut" Simpson and "Happy" Dinsdale
Sisters: Bonita Simpson, Elrita Simpson and Twitta Simpson
Brother: Boris Simpson
Daughters in Law: Mona, Rita, 15 unnamed and Amber Simpson

First Appearance
"Bart Gets Hit by a Car"
Voiced By
Hank Azaria
"See, son, that's where we're going ... maybe not today, maybe not tomorra'. But someday."
―Orville J. Simpson
Orville J. Simpson, or Great-Grandpa Simpson (1894-1978) was born in Canada, as one of the sons of Old Tut and Happy (née Dinsdale) Simpson (the other being Boris Simpson) and the paternal grandfather of Homer Simpson. Orville married Yuma Hickman while still in Canada. and had their first son, Hubert soon afterwards, with Tyrone coming two years later. A few years later, they had their third son, Cyrus. Sometime afterwards, they had their fourth son, Abraham Simpson. He is also the great-grandfather of Bart,Stanley,Lisa,Ling,Jessica,Homer Jr and Maggie Simpson.
Shortly after his birth, Orville, Yuma Hickman and their four sons emigrated to America, and moved into the Statue of Liberty. After a few years of living there, they were forced to move out when they filled the head with too much garbage. Their family then moved Springfield, North Takoma. Tyrone Simpson left home soon afterwards to move to Dayton, Ohio, where he still lives. In America, Orville and Yuma had another son, and named him Bill Simpson. Abraham and Cyrus grew up, with them both becoming navy pilots in WWII. Cyrus crashed his fighter plane in Tahiti, and moved there permanently, later becoming married to 15 women, to whom he is still married. Bill grew up and became a communist. During the war, Orville and Yuma had their final child, and named him Chet. Orville and Yuma later grew old and passed away. Chet grew up to and started to run an unsuccessful shrimp company. Orville passed away shortly after Mona abandoned the family. If Abe's story about Virgil Simpson is true, he is 1/8 black, making him an octoroon.
Orville was seen in Heaven by Bart after getting hit by a car,[1] strangling young Abe, hinting the habit is a family trait. He is present in Grampa's story when Grampa tells the family of his arrival in the U.S.[2] He is the son of "Old Tut" Simpson and "Happy" Dinsdale.[3]. However, Homer still believes he is alive.[4].He is possibly died in 1979 before Yuma did he so Orville was younger than Yuma So he could be born around 1890s or met Yuma during the world war one.So he was around 87 year old he died and Yuma was 99 year old.Homer Mentions that he was a policeman.He is also the great grandfather of Bart,Lisa and Maggie Hugo(non-canon) Simpson,Ling Bouvier He porbaoly died in 1978 year before Bart's birth. What a shame.
Appearances
Edit
Citations
Edit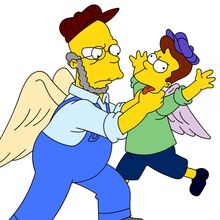 Simpson family
Simpson Family

Homer Simpson •

Marge Simpson •

Bart Simpson •

Lisa Simpson •

Maggie Simpson •

Santa's Little Helper •

Snowball V
Homer's living relatives

Abe Simpson •

Abbie •
Herbert Powell •

Tyrone Simpson • Dr. Simpson •

Cyrus Simpson •

Chet Simpson • Stanley Simpson • Bill Simpson • Frank Simpson • Cyrus's 15 wives
Marge's living relatives

Jacqueline Bouvier •

Selma Bouvier •

Patty Bouvier •
Ling Bouvier • Jub-Jub
Homer's deceased relatives

Amber Simpson

Mona Simpson • Hubert Simpson •

Hortense Simpson

Orville Simpson • Bonita Simpson • Elrita Simpson • Twitta Simpson •

Yuma Hickman

"Old Tut" Simpson •

Gaston Simpson • Hugo Simpson • Dulcine Simpson • Lou Simpson • Floyd Simpson •

"Happy" Simpson

Howland Simpson • Zeke Simpson • Pippa Simpson •

Gabby Crouse

Garwood Simpson • Ivy Simpson • Galston Simpson • Prudence Simpson • Trixie Simpson •

Clowta Stillman

Rupert Simpson •

Lambert Simpson •

Winifred Running Goat • Humphrey Little Goat • Jane Nervous Goat


Sven Simpson •

Claretta Ethridge • Mary Frowning Cloud • Joe Puffing Goat
Marge's deceased relatives
Clancy Bouvier • Gladys Bouvier • Alvarine Bisque • Arthur Bouvier • Alfreda Bouvier II • Françoise Billout • Antoine Bouvier • Axel Bouvier • Bambi Bouvier • Charlene Bouvier • Chester Bouvier • Dorothé Bouvier • JoJo Bouvier • Monique Bouvier • Pépé Bouvier • Victor Bouvier • Victor Bouvier II • Cléo Bouvier • Didi Bouvier • Ferdinand Gurney • Gladys Gurney • Honoré Bouvier • Alfreda LeDoux • Angelique Marceau • Marcel Bouvier • Bambi Petitbois • Pierre Bouvier • Rowena Bouvier • Yves Bouvier
Non-canon Characters
Hugo Simpson • Maggie Jr. • Bart Simpson, Jr. • Bart's Elder Son • Bart's Younger Son • Captain Kidney Pie • Colonel Custard • Maggie's Husband • Man O' Pies • Pieman of the World • Señor Fritatta • Zia Simpson
Other Pets
Bart Junior • Chirpy Boy and Bart Junior • Coltrane • Duncan • Greyhound Puppies • Henry the Canary • Laddie • Lou • Mojo • Pinchy • Plopper • Princess • Smiley • Snowball I •

Snowball II • Snowball III • Snowball V • Snuffy • Stampy • Strangles • She's the Fastest