The Original Alfalfa was an actor who played Alfalfa in Our Gang.
Biography
One day, while on set, he and the other Little Rascals were shooting marbles. Moe Szyslak, who played Smelly, shot his marble into the exhaust pipe of a car. Before he could run after it, the Original Alfalfa went to check and got the exhaust on his face. Moe then jumped on him and beat him to death, claiming that he stole his bit. Luckily for Moe, the Original Alfalfa was an orphan owned by the studio, so no charges were pressed against him.
Appearances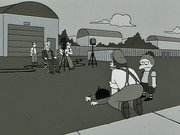 Ad blocker interference detected!
Wikia is a free-to-use site that makes money from advertising. We have a modified experience for viewers using ad blockers

Wikia is not accessible if you've made further modifications. Remove the custom ad blocker rule(s) and the page will load as expected.