The
Open wheel race car
in the Simpsons hit and run is the fastest and best handling car in the game but it is also very prone to damage, only half a star. It looks like a Formula 1 car.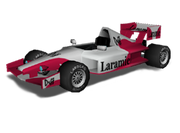 This may possibly be the formula 1 racing car Bart said he'd sell his soul for before changing his mind, from the episode,
Treehouse of Horror IV
(deleted scene) see,
"The Simpsons 138th Episode Spectacular"
However it looks slightly different. It also has appeared in
How I Spent My Strummer Vacation
 being owned by one of the Rolling Stones members
Ad blocker interference detected!
Wikia is a free-to-use site that makes money from advertising. We have a modified experience for viewers using ad blockers

Wikia is not accessible if you've made further modifications. Remove the custom ad blocker rule(s) and the page will load as expected.