One More Round is a song sung by Moe in Moe Better Booze, his entry in the Springfield Film Festival in the episode "A Star is Burns".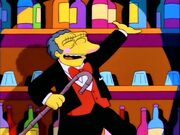 Lyrics
Money gets you one more round,
Drink it down, you stupid clown,
Money gets you one more round,
You're out on your ass!
(falls) Ow! My back!
Behind the Laughter
"One More Round" is a parody of "Money, Money, Money" from the musical film Cabaret (specifically, the lyric "Money makes the world go 'round").
Ad blocker interference detected!
Wikia is a free-to-use site that makes money from advertising. We have a modified experience for viewers using ad blockers

Wikia is not accessible if you've made further modifications. Remove the custom ad blocker rule(s) and the page will load as expected.