An Old, abandoned summer-camp was a location in an unknown forest. This run-down, shoddy campsite is where Ernest Borgnine and the Junior Campers were attacked and possibly killed by a figure (implied to be Jason Voorhees) stalking them, after they broke away from Flanders, Bart and Homer.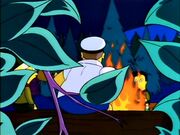 Appearances
The title of this article is a conjectural. Though the topic is found within The Simpsons universe, a proper name is not available.
| | | |
| --- | --- | --- |
| | D'oh! | This article is a stub. You can help the wiki by embiggening it. |
Ad blocker interference detected!
Wikia is a free-to-use site that makes money from advertising. We have a modified experience for viewers using ad blockers

Wikia is not accessible if you've made further modifications. Remove the custom ad blocker rule(s) and the page will load as expected.