Number XX is a song sung by the cast from the "There's No Business Like Moe Business" segment of "Treehouse of Horror XX". Although the music is credited to Alf Clausen, it is actually set to the Theme Song, which was written by Danny Elfman. The lyrics were written by Daniel Chun.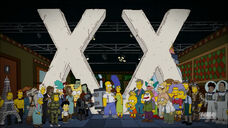 Cast:
We hope you've enjoyed this year's Halloween show:
Treehouse of Horror Number X-X!
Shhhhh!
(points to Kang, who is sleeping)
Kodos saying "Shhhh!" at the end is a reference to the Gracie Films logo.