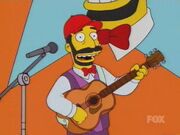 Nonsense Song
is a song performed by
Roofi
in the episode "
Marge vs. Singles, Seniors, Childless Couples and Teens and Gays
."
Lyrics
Sing the nonsense song with me,
Yum, yum, wow, whoop dee wee!
Flibberty flabberty, one, two three!
Behind the Laughter
Appearances
Ad blocker interference detected!
Wikia is a free-to-use site that makes money from advertising. We have a modified experience for viewers using ad blockers

Wikia is not accessible if you've made further modifications. Remove the custom ad blocker rule(s) and the page will load as expected.