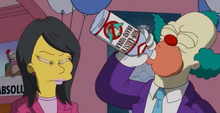 Non-Krusty Brand Vodka is a brand of vodka shown in "The Man in the Blue Flannel Pants".
History
Krusty the Clown was shown drinking it at a party intended to promote his own brand of vodka, Absolut Krusty.
Notes
It is mentioned that Krusty once drank a brand of vodka other than his own in a TV special. It is unknown whether it was this brand.
Appearance