Neil Gaiman (pronounced GAY-min) is an English author of short fiction, novels, comic books, graphic novels, audio theatre and films. He is most famous for the comic book series The Sandman, his 2002 novel Coraline, and his 2008 novel The Graveyard Book, which has won the 2009 Newbery Medal. He has won numerous awards for his work.
Gaiman appeared in the episode The Book Job.
External Links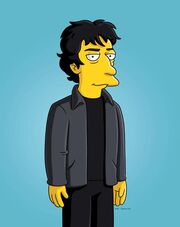 Ad blocker interference detected!
Wikia is a free-to-use site that makes money from advertising. We have a modified experience for viewers using ad blockers

Wikia is not accessible if you've made further modifications. Remove the custom ad blocker rule(s) and the page will load as expected.