NASCAR Stacy is a doll in the Malibu Stacy toy series. She first appears in the comic The Case of the Headless Dolls on Lisa's floor.
History
NASCAR Stacy is one of seven dolls on Lisa's floor, she is beheaded just like the rest of the dolls. she is strangely part of Lisa's Science Nerd Stacys collection.
Gallery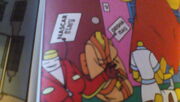 Ad blocker interference detected!
Wikia is a free-to-use site that makes money from advertising. We have a modified experience for viewers using ad blockers

Wikia is not accessible if you've made further modifications. Remove the custom ad blocker rule(s) and the page will load as expected.