Premiere
The premiere of this episode was watched by 12.5 million people in America.
Cultural References
Trivia
This is the second appearance of Mona Simpson before her death in Mona Leaves-a.
During this episode Chief Wiggum arrests Mona, despite being the one in her previous appearance to help her escape. However, he might have forgotten about that escape.
Homer kicks over the grave of Frank Grimes.
In this episode, Mona fakes her death. Homer faking his death is what lead to her first appearance in modern day Springfield. This is also the second episode where a character fakes their death with a vehicle crash. The first was Bart the Fink.
Despite the title, Mona doesn't carjack in this episode. However, Homer hijacks a prison bus.
Goofs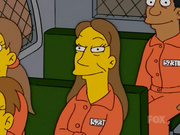 Two prisoners in the jail both have the number 5231's in their name blank.
The first half of the "Giant Taco Built in Mexico" news is a normal text. The second half only has the first letters of each line so Mona's message could be shown. The rest of the letters are random and make no sense.
Despiting mentioning it in newspaper message, Mona was not seen jumping from the prison bus. Of course this was probably intentional so as to not ruin the ending.