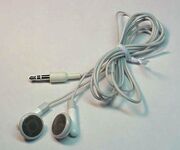 MyPhonies
are fake earbuds made by
Mapple
.
Lisa Simpson looked at the MyPhonies when she was browsing in a Mapple Store and realized she couldn't afford a MyPod. The store clerk suggested she get the MyPhonies so that people would at least think she had a MyPod. However, they cost $40, which Lisa also couldn't afford.
Behind the laughter
MyPhonies are a parody of Apple earphones.
Appearances
Ad blocker interference detected!
Wikia is a free-to-use site that makes money from advertising. We have a modified experience for viewers using ad blockers

Wikia is not accessible if you've made further modifications. Remove the custom ad blocker rule(s) and the page will load as expected.