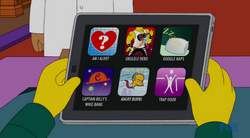 The MyPad is a tablet made by Mapple. MyPad is a parody of the Apple iPad.
History
Homer played The Happy Little Elves Game on his MyPad.[1] Mr. Burns was also seen using a MyPad in his office.[2]There is a Game Called Angry Burns on the MyPad. There is also a quest 'play on MyPad' in The Simpsons: Tapped Out game on IOS & Android
Trivia
The MyPad is a parody of Apple's iPad.
Unlike the iPad, it is designed to be used sideways, due to the trend of many iPad users holding it sideways instead of upright.
List of known apps
Behind the Laughter
The MyPad is a parody of Apple's iPad.
Appearances
Trivia
Mr. Burns uses MyPads to send people out of his office via trap door.
Citations
↑

The Simpsons: Tapped Out
Ad blocker interference detected!
Wikia is a free-to-use site that makes money from advertising. We have a modified experience for viewers using ad blockers

Wikia is not accessible if you've made further modifications. Remove the custom ad blocker rule(s) and the page will load as expected.