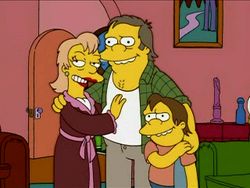 The Muntz Family is one of the many families who are native to Springfield.
Summary
The immediate Muntz family consists of four members: Nelson Muntz, his sister and his parents, Mr. Muntz and Mrs. Muntz.
Extended Family Members
Other members include Judge Muntz, Chuck Muntz and Reilly Muntz, with episodes predicting the future also show Nelson Muntz, Jr., and two children fathered by Nelson with Sherri and Terri, the Muntz family is linked to Sherri and Terri's Family, by the birth the 4 unnamed baby and the marriage of Terri, Sherri et Nelson Muntz. The Muntz family is linked to Simpson family by the marriage of Lisa Simpson et Nelson Muntz and by the birth the Lisa and Nelson's children. Judge Muntz got married with an unknown woman and had two kids, Chuck Muntz and Mr. Muntz (the head of the family). Nelson also has two cousins named Chuck Muntz and Reilly Muntz.
Family Member Gallery
Future (Non-canon)
Family Tree
Ad blocker interference detected!
Wikia is a free-to-use site that makes money from advertising. We have a modified experience for viewers using ad blockers

Wikia is not accessible if you've made further modifications. Remove the custom ad blocker rule(s) and the page will load as expected.