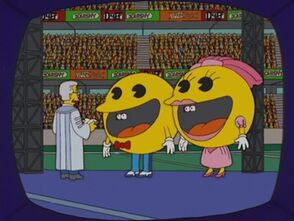 Ms. Pac-Man was a classic arcade game made by Namco & licensed by Midway. It was released in 1981, a year after the original Pac-Man.
History
When Homer is watching the Super Bowl on TV, a news reporter was announcing the wedding for Pac-Man and Miss Pac-Man. The ghosts were there to as they dance to the song "Physical".
Appearances Edit
[1] Episode – "Homer and Ned's Hail Mary Pass"
Lisa's First Word (mentioned)
Angry Dad: The Movie
(arcade machine seen)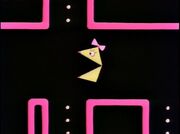 Ad blocker interference detected!
Wikia is a free-to-use site that makes money from advertising. We have a modified experience for viewers using ad blockers

Wikia is not accessible if you've made further modifications. Remove the custom ad blocker rule(s) and the page will load as expected.