Ad blocker interference detected!
Wikia is a free-to-use site that makes money from advertising. We have a modified experience for viewers using ad blockers

Wikia is not accessible if you've made further modifications. Remove the custom ad blocker rule(s) and the page will load as expected.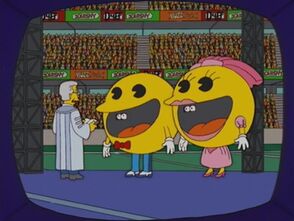 Ms. Pac-Man was a classic arcade game made by Namco & licensed by Midway. It was released in 1981, a year after the original Pac-Man.
When Homer is watching the Super Bowl on TV, a news reporter was announcing the wedding for Pac-Man and Miss Pac-Man. The ghosts were there to as they dance to the song "Physical".
[1] Episode – "Homer and Ned's Hail Mary Pass"
Lisa's First Word (mentioned)
Angry Dad: The Movie
(arcade machine seen)