Ms. Albright
Talk

2
17,704 articles being
edited here
"Is a little blind faith too much to ask anyone?"
―Ms. Albright
Ms. Albright is the Sunday school teacher at the First Church of Springfield.
Biography
Edit
Ms. Albright teaches Sunday school and once had Bart Simpson as a student some time ago, a time that she undoubtedly dreaded. When Bart came back to Sunday school in order to get close to Jessica Lovejoy, a current student, she is frightened, but decides to welcome him back. She then bends down to get some books, and Bart is tempted to fire his slingshot at her, but relents in order to impress Jessica.
Ms. Albright speaks with a soft Southern accent.
She is good friends with Helen Lovejoy, the pastor's wife.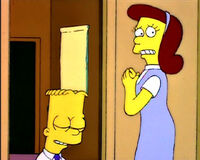 Appearances
Edit
Note: Many of her appearances are brief, background roles. Episodes in which she has an actual role are in bold.
Citations
Edit