Mr. Plow is a plow truck that Homer bought. It served him well in clearing his neighbor's yards and earning money for his Mr. Plow company, and was useful during an avalanche that trapped Barney Gumble, who opened up his own business rival, Plow King. However, it was repossessed soon after all the snow melted.
Non Canon Appearances
Along with the Plow King, Mr. Plow is also a drivable vehicle in The Simpsons: Hit and Run, which Homer gives to Bart for a price.
In LEGO Dimensions, an unlockable skin for Homer's Car resembles Mr. Plow. The vehicle itself can be summoned using a Locate Keystone in the Back to the Future Level Pack in order to clear debris blocking a bonus area.
Appearances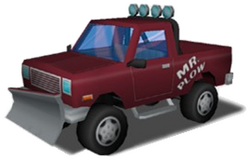 Ad blocker interference detected!
Wikia is a free-to-use site that makes money from advertising. We have a modified experience for viewers using ad blockers

Wikia is not accessible if you've made further modifications. Remove the custom ad blocker rule(s) and the page will load as expected.