Ad blocker interference detected!
Wikia is a free-to-use site that makes money from advertising. We have a modified experience for viewers using ad blockers

Wikia is not accessible if you've made further modifications. Remove the custom ad blocker rule(s) and the page will load as expected.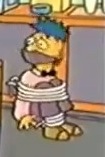 Mr. Chupo
is the owner and cashier of
Chupo's Candy Store
and was tied up and gagged with a rag by the
Candy Store Bandit
. He tried to get barts attention so he could be rescued but because he was gagged bart didn't hear him. bart was thrown out of the shop by the bandit and accidently knocked the bandit out so the police could arrest him. He agreed to pay
Bart Simpson
the $5,000 reward for the bandit's capture in candy bars.
Appearances
Edit