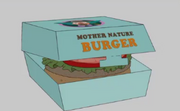 The Mother Nature Burger is an item from Krusty Burger that is made from "wheat-fed" barley. It received a lot of praise at first until everyone who ate one got food poisoning due to the Ogdenville barley being tainted by rats. The item was most likely removed from the menu shortly after.
Appearances
Ad blocker interference detected!
Wikia is a free-to-use site that makes money from advertising. We have a modified experience for viewers using ad blockers

Wikia is not accessible if you've made further modifications. Remove the custom ad blocker rule(s) and the page will load as expected.