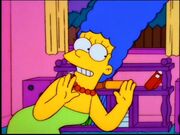 Mom Was Right is one of the wraparound songs that the Simpsons sing to help introduce clips in the episode "All Singing, All Dancing." The music was written by Alf Clausen and the lyrics by Steve O'Donnell.
Lyrics
Bart:
Mom was right, your singing's a sin.
You're as Les misérable as Lee Marvin.
Sure your dad's singing could make your hair curl,
But you, too, Bart, have sung and danced like a girl.
Bart:
Eep!