Molloy is a cat burglar who lived at Springfield Retirement Castle. He started a crime wave in Springfield, that ended with the world's largest zirconia being stolen, which led to his arrest. He mentioned having been a cat burglar for years. He tricked the entire town into going on a phony treasure hunt, and he escaped from prison when they were all gone.[1]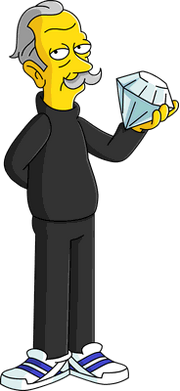 Stolen items
Edit
Bart's portable TV and stamp collection
Lisa's saxophone
Marge's necklace
Flanders's Shroud of Turin beach towels
Skinner's Stormin' Norman commemorative plates (which had been previously stolen)
Barney's clothes and furniture
Selma's lock of MacGyver's hair
The world's largest cubic zirconia
Simpsons Comics
Edit
He appeared again as one of the suspects when the zirconia was stolen again.[2]
Appearances
Edit
Citations
Edit