"Moe, Moe, Moe" is a song performed by the Moe Szyslak Connection at the end of "Dude, Where's My Ranch?". It was produced by David Byrne against his will. It was their only #1 hit and it replaced "Everybody Hates Ned Flanders".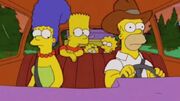 Lyrics
Moe:
Moe, Moe, Moe!
How do you like me? How do you like me?
Moe, Moe, Moe!
Why don't you like me? Nobody likes me...
Behind the Laughter
The song is a parody of the Andrea True Connection's 1976 hit "More, More, More".
Ad blocker interference detected!
Wikia is a free-to-use site that makes money from advertising. We have a modified experience for viewers using ad blockers

Wikia is not accessible if you've made further modifications. Remove the custom ad blocker rule(s) and the page will load as expected.