Mina is Bashir bin Laden's mother. She first met Bart when he came into their back garden after smelling a barbecue. She was complimented by Bart. She and her husband and Bashir went to the Simpsons house for dinner and were accused of a terrorist plot by Homer. She is a kind and hospitable person, but becomes understandably annoyed at Homer when he all but outright accuses them of being terrorists.
Appearances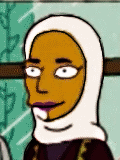 Ad blocker interference detected!
Wikia is a free-to-use site that makes money from advertising. We have a modified experience for viewers using ad blockers

Wikia is not accessible if you've made further modifications. Remove the custom ad blocker rule(s) and the page will load as expected.