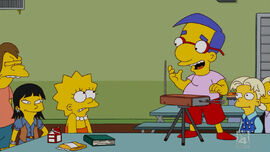 Milhouse's Love Song is a love song sung by Milhouse for Lisa in the episode ". He used a theremin at first and then Martin played his lute.
The song was supposed to declare Milhouse's love to Lisa, but just end up embarrassing her. Because of that, she refused to be Milhouse girlfriend.
Lyrics
Teacher said, don't eat the paste
'Tis apt to make you spew.
I ate the paste, and liked the taste
Passed out and dreamed of you.
Lisa:
Okay... first of all, it's never wise to use the word "spew" in a love song.
Milhouse:
Lisa, Lisa, maid so fair
With crimson dress and pointy hair.
Do you mind if I stop and stare
Look in your mind and I'm there.
So, Lisa, I love you. Is that love "requited" or "un"?
Lisa:
I'm sorry, but I don't love you, Milhouse, and I never will.
Trivia
Appearances
Ad blocker interference detected!
Wikia is a free-to-use site that makes money from advertising. We have a modified experience for viewers using ad blockers

Wikia is not accessible if you've made further modifications. Remove the custom ad blocker rule(s) and the page will load as expected.