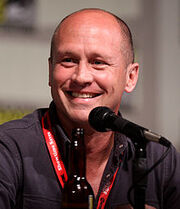 Mike Judge is an American animator, writer, producer and director. He guest starred on The Simpsons in "Bart Star" as Hank Hill, his character from the series he created, King of the Hill. He also created Beavis and Butthead and directed the film Office Space. Mike was also an interviewee in The Simpsons 20th Anniversary Special – In 3-D! On Ice!!.
Appearances
Ad blocker interference detected!
Wikia is a free-to-use site that makes money from advertising. We have a modified experience for viewers using ad blockers

Wikia is not accessible if you've made further modifications. Remove the custom ad blocker rule(s) and the page will load as expected.