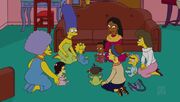 The Midday Mommies are a mothers club. The group consisst of Marge, Ms. Samson, Manjula, Selma, and Noah's Mother. Everyone of them, except Marge, is a major health nut when it comes to their babies. Manjula calls milk 'cow cancer', though as a Hindu like Apu she is against eating anything that comes from an animal including dairy.
| | | |
| --- | --- | --- |
| | D'oh! | This article is a stub. You can help the wiki by embiggening it. |
The mothers' protectiveness of their children is so extreme that upon seeing that Marge had their babies drinking from 'Number 7' plastic sippy cups and using non-stick pans they stood in the middle of the street to force an ambulance to stop for them, pulled Hans Moleman who was on a stretcher out into the street and made the ambulance take them to the hospital.