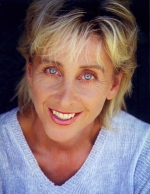 Michaela Amler is a German television and theatre actress and voice performer who provides the German voice of Milhouse Van Houten.
Biography
Originally a theatre actress, Amler became a voice performer for television shows and commercials in the 1980s. She voiced characters on Sailor Moon and Peter Pan.
She has voiced Milhouse in every episode of The Simpsons and in The Simpsons Movie, and also took over the role of Helen Lovejoy since Season 17.
Characters
Image Gallery
External links