Michael Chabon is an American author.
History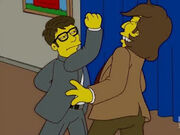 Chabon was on a panel of authors at the Wordloaf Literary Conference. He said that Jonathan Franzen was his biggest influence and got upset when Franzen said that his biggest influence was Albert Camus. At the finishing dinner, he and Franzen end up in a fight.
Appearances
Ad blocker interference detected!
Wikia is a free-to-use site that makes money from advertising. We have a modified experience for viewers using ad blockers

Wikia is not accessible if you've made further modifications. Remove the custom ad blocker rule(s) and the page will load as expected.