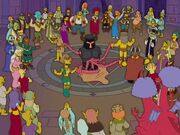 Merry Month of May is a song from the episode "Marge Gamer". The music was written by Alf Clausen and the lyrics by J. Stewart Burns.
It was sung by the characters in Earthland Realms after they killed the Shadow Knight. They celebrated by propping his body upright and dancing around it like a Maypole, using his intestines for ribbons.
Lyrics
The Shadow Knight shall rule no more,
We spilt his blood upon the floor.
With a high and a ho and a trolley-lolley-lay,
It's a jolly, merry month of May.
Appearances
Ad blocker interference detected!
Wikia is a free-to-use site that makes money from advertising. We have a modified experience for viewers using ad blockers

Wikia is not accessible if you've made further modifications. Remove the custom ad blocker rule(s) and the page will load as expected.