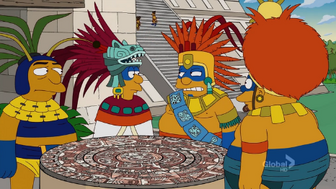 The Mayans are an ancient civilization in Mexico. They worship unnamed gods.
History
The Mayans were seen predicting the end of the world and it turned out to be in the 13th Baktoon (2012).
List of Mayans
Citizens
Leaders
Appearances
Ad blocker interference detected!
Wikia is a free-to-use site that makes money from advertising. We have a modified experience for viewers using ad blockers

Wikia is not accessible if you've made further modifications. Remove the custom ad blocker rule(s) and the page will load as expected.