Marvin Monroe
Talk

10
16,761 articles being
edited here
Dr. Marvin Monroe is a local psychiatrist who was for a long time considered to have passed away.
Homer sold the family TV after seeing an ad for Dr. Monroe's Family Therapy Center during a boxing match at Moe's. The ad claimed "family bliss or double your money back". The Simpson family was asked to complete a series of tests, including drawing your worst fear of which everyone but Homer drew Homer. Homer drew a random doodle. Unable to reach the Simpson Family, Monroe turned to the shock therapy method: the Simpsons were strapped in chairs with electrodes attached to them, and controls which they could use to shock other family members. However, it got out of hand and the whole town lost power.
Having had all his other patients leave, Monroe threw out the Simpson Family, paid them the money, and told them to never tell anyone they were there. With their money doubled, they purchased a new TV.[1]
Monroe is one of the doctors who studies Homer to figure out if he is the missing link after Homer was captured by Bigfoot hunters.[2]
Monroe hosts his own morning radio show on KBBL where he takes calls from listeners and tries to help them with their problems.[3]
Monroe was a panel guest on Smartline discussing TV violence.[4]
Supposed death
Edit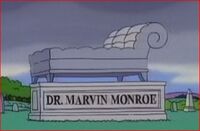 Although it was never specifically shown, Dr. Monroe was considered to have died. He stopped appearing on TV and his business closed down. Many people in Springfield also believed him to be dead because several things had been named after him; Marvin Monroe Memorial Hospital,[5] and a school gym.[6] His grave is also shown,[7] and Troy McClure reported his death "over the past year".[8] However several years later he spontaneously appeared in at Marge's book signing, buying a copy of her book, The Harpooned Heart. Marge, shocked to see him, exclaimed that she hadn't seen him in years. Dr. Monroe explained that he had "been very sick".[9]
Retirement
Edit
Monroe was (initially) retired in Season 7 because voicing the character strained Harry Shearer's throat and, eventually, the voice became too annoying for Matt Groening.[10][11]
Appearances
Edit
Citations
Edit