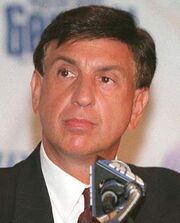 | | |
| --- | --- |
| | It has been suggested that this article be split into multiple articles (with a disambiguation page in case of confusion). (Discuss) |
Marv Albert was the Basketball announcer at the game when Mr. Burns took over the team.
Behind the Laughter
Marv Albert is a famous basketball announcer. He appeared in the Season 20 episode The Burns and the Bees.
Appearances
External links
Ad blocker interference detected!
Wikia is a free-to-use site that makes money from advertising. We have a modified experience for viewers using ad blockers

Wikia is not accessible if you've made further modifications. Remove the custom ad blocker rule(s) and the page will load as expected.