Martha Quimby
Talk

2
17,327 articles being
edited here
"Joseph!"
―Martha Quimby, after catching her husband in the act of womanizing
Martha Quimby is the long-suffering wife of Mayor Quimby, and the First Lady of Springfield.
She met Joe Quimby while working at the Maison Derrière.
Relationship with Mayor Quimby
Edit
Martha is well aware that Mayor Quimby cheats on her; she only stays with him because she enjoys the power that goes with being the mayor's wife. Martha puts up a brave front of being all right with the mayor's cheating, but on one occasion she revealed her true feelings. Marge Simpson was visiting the Quimby house and talking to Martha in the mayor's home office. Martha accidentally pressed a button that transformed the office into a combination bar/strip joint, and broke down in tears at the sight of scantily clad women in cages being lowered from the ceiling.[1]
In Mommie Beerest, it is revealed that Miss Springfield became Mayor Quimby's secret wife, suggesting that Martha either is dead, divorced, or he became a bigamist.
Relatives
Edit
Martha is related to actor Rainier Wolfcastle's wife, Maria.[2]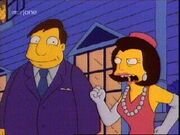 Behind the Laughter
Edit
Like Sarah Wiggum and Bernice Hibbert, Martha is one of the less notable and more sane characters on the show. Also like Mrs. Wiggum and Mrs. Hibbert, Martha plays the role of the quiet housewife, the wife to a corrupted husband.
Martha often wears a pink suit and pillbox hat, a style similar to the one that Jacqueline Kennedy made famous.
Appearances
Edit
Citations
Edit