Married to the Blob
Talk

0
17,218 articles being
edited here
Married to the Blob is the tenth episode of Season 25, which premiered on January 12th, 2014.
Comic Book Guy marries a mangaka (a manga writer) named Kumiko.
Full Story
Edit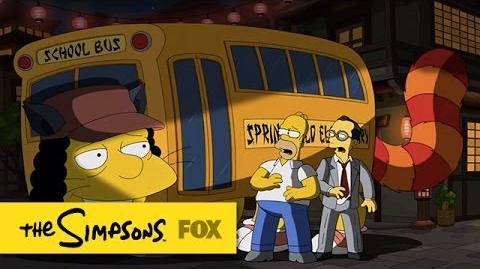 Bart and Milhouse was reading a Radioactive man  Comic but they didnt know it was his death Diecrabyua said Bart. Milhouse got a tweet from Comic Book Guy,they were gonna go to Android's Dungeon at Midnight and wear there Costumes. Homer randomly came out eating candy out of a pinata. Bart begged to go to Android's Dungeon and Homer agreed. Then at midnight there was a full line of kids. Comic Book Guy went outside and the children cheered Quiet, QUIET! said Comic Book Guy. Bart, Milhouse and Homer were at the end of the line and so it a took a long time They were finally there and then a friend of Comic Book Guy budged in front of him. Homer was holding the two kids he was tired then he got the kids Comic books: Radioactive Man. He scratched his back with a Action Figure hen went to Moes. Then Comic Book Guy's Imangation Stan Lee popped out of nowhwere  Stan Lee is that you? said Comic Book Guy No i am your imaginary.
said Stan Lee The real Stan Lee is over there Stan Lee pointed at the Other one Excellsioary said Stan Lee. He stole a Comic then ran outside. END OF CHAPTER 1