Mark Zuckerberg is the co-founder of Facebook.
History
Lisa
and
Nelson
see him at an entrepreneur expo. He is seen using Facebook and when he meets Lisa and Nelson, he changes his status to "happy to meet new friends". He reveals that he dropped out of Harvard and still became rich and successful. He then had a play fight with him on
Richard Branson
's shoulders and Nelson on
Bill Gates
' shoulders.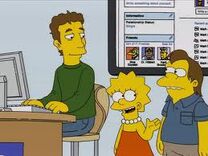 He was later seen at a rollerskating ring and was accidentally knocked over by Lisa and Nelson. He changed his Facebook status to "is in intense pain" to which Nelson replied "Haw Haw!" and Lisa replied "Sorry".
Trivia
Appearances
Gallery
Ad blocker interference detected!
Wikia is a free-to-use site that makes money from advertising. We have a modified experience for viewers using ad blockers

Wikia is not accessible if you've made further modifications. Remove the custom ad blocker rule(s) and the page will load as expected.