"Homer Simpsons! That's a dilly of a pickle. Hey let's conference you with Marge..."
―Ned Flanders (to Homer over the phone)
Marital Stress Hotline is a Springfield hotline for counselling. Ned Flanders is a worker and possible owner.
History
Homer is struggling to overcome his feelings for Mindy. In one his final bursts of desperation, he runs to a phone booth and calls the hotline. Homer is horrified when Ned Flanders picks up and starts to call Marge. Homer screams and topples the phone booth over while he is still in it. This sparks a fantasy. [1]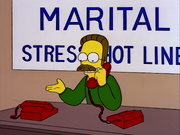 Trivia
The hotline's number is: "KL5-1680"
Appearance
Citations
Ad blocker interference detected!
Wikia is a free-to-use site that makes money from advertising. We have a modified experience for viewers using ad blockers

Wikia is not accessible if you've made further modifications. Remove the custom ad blocker rule(s) and the page will load as expected.