Marcia Karen Wallace (November 1, 1942 — October 25, 2013)[1] was an Emmy-winning actress from Creston, Iowa, United States, best known for her roles on The Bob Newhart Show, and The Simpsons. She was a Delta Zeta alumna. She voiced Edna Krabappel. She had also voiced Ms. Mellon in "Bart the Genius".
Biography
Wallace is best known for her roles as Carol Kester Bondurant, the receptionist for Bob Newhart (to people over 40) on the 1972 television series The Bob Newhart Show, and as the voice of Edna Krabappel on The Simpsons, for which she won an Emmy for Primetime Emmy Award for Outstanding Voice-Over Performance in 1992.
She was an occasional celebrity panelist on Match Game and played "Mrs. Carruthers" in a few episodes of the ABC sitcom Full House. She also played the maid on the short-lived TV series That's My Bush!, and appeared in episode #227 of Bewitched ("Laugh, Clown, Laugh"), as Darrin's secretary, in 1971.
Wallace was a breast cancer survivor and activist who lectured on the subject [1]. On January 27, 2007, Marcia won the Gilda Radner Courage Award from Roswell Park Cancer Institute for helping educate Americans about the importance of early cancer detection and inspiring others through her 20 years as a breast cancer survivor.
Her book, Don't Look Back We're Not Going That Way, is a biography that recounts the early detection of her breast cancer, the loss of her husband Denny to cancer, her nervous breakdown, her single motherhood and other experiences.
Death
On October 25, 2013, Wallace died of pneumonia at age 70. Staff of The Simpsons had been aware of this illness. She was 1 week shy of her 71st Birthday.
Show producer Al Jean stated that due to Wallace's passing, the character Edna Krabappel would be retired, as it wouldn't feel the same character with a different character and it was paying their respects. [2] While her death was confirmed in "The Man Who Grew Too Much", the cause of her death remains unknown.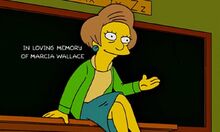 Credits
Special Guest Voice
Season 1

Season 2

Season 3

Season 4

Season 5

Season 6

Season 7

Season 8

Season 9

Season 10

Season 11

Season 12

Season 13

Season 14

Season 15

Season 16

Season 17

Season 18

Season 19

Season 29
Also Starring (2007)
Trivia
Wallace was the first and most recurring guest star throughout the series.
Citations
External links