What is a Manimal?
Edit
Manimal refers to Treehouse of Horror Characters who were humans made into animals by Julius Hibbert.
Main Character's Manimal
Edit
Homer was the last person to become a manimal. He became a walrus.
Marge is the first of the Simpsons to be made into a manimal. She became a panther.
Bart became a spider. Bart made a web reading Eat My Shorts.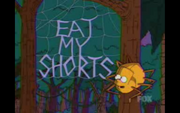 Lisa and Maggie
Edit
Lisa became an owl and Maggie became an anteater.
Lisa tried to eat Maggie and claimed that they were playing a game called "Let's Eat Maggie" when she was reprimanded by her father.
Flanders became a cow. He guided Homer to the Crowd of Manimals.
Other Background Characters
Edit